Shop master chrome extension is not longer available please look at dsers or oberlo or other alternatives.
Looking for some best Google Chrome extensions for Dropshipping? I get it, just like me, you also want to speed up the day-to-day process of dropshipping, which is great! 
When my parents used to say, "money doesn't grow on trees." I was like – duh, that's exactly where it grows. Cmon, we're living in such a technological era where it's possible to make the earning process easier and faster.
I know you believe the same. So in that case, I'm gonna give you a list of the best Google Chrome extensions that can make the life of a dropshipper like you much easier. So let's get started.
Best Google Chrome Extensions for Dropshipping Market Research
Being a dropshipper, you must know that shooting in the dark is equivalent to zero sales. If you don't strategize which markets to approach, are you even approaching dropshipping the right way? Let these Google Extensions guide your way like a good sailor.
Shop Master Extension for Dropshipping
Shop Master is one of the best Google chrome extensions for dropshipping that allows you to directly import products from multiple suppliers to your online store. So there's no more hassle needed to scrape out products from one store to another.
With this extension, you can easily automate the scraping process and engage with more prospects.
Here are a couple of things that Shop Master allows:
Product Sourcing
Auto Fulfillment
Product Monitor
Because of the range of features it offers, it's quite popular among advanced dropshippers. The more you advance in your dropshipping tasks, the more useful this tool becomes.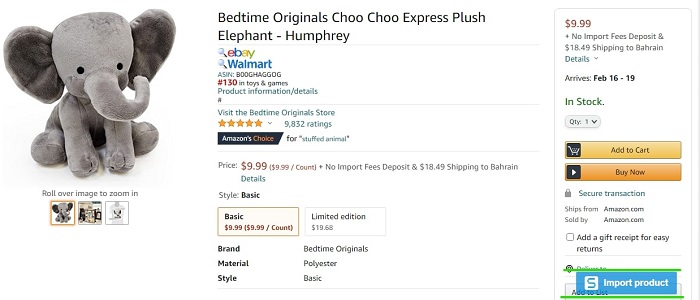 Pros of Shopmaster
Vast inventory of automation tools
Popularity amongst dropshippers
Effectively saves time so that you can focus on something more important
Cons of Shopmaster
The user-interface is quite complex for new users.
Grabley – One of the Best Google Chrome Extensions for Dropshipping
Grabley is the extension that lets you grab the lowest prices and capture the highest trends. Most novice dropshippers waste time tracking prices in excel sheets. Don't be like them. Just go ahead and leverage Grabley to your advantage. It not only tracks the popularity of a product, but also directs eBay and Walmart links so that you can see where a product stands in the market.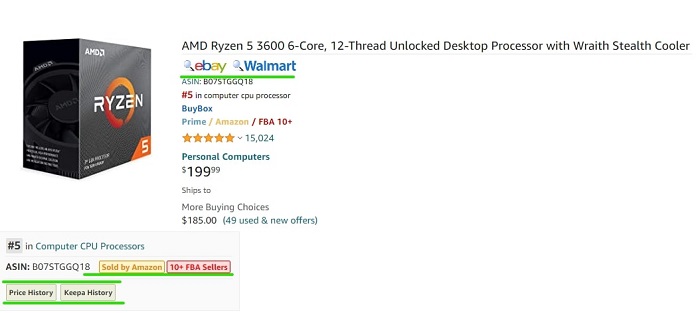 Pros of Grabley
One link integration with Amazon.
Direct links to eBay and Walmart
Tracks rankings and price history all in one place
Cons of Grabley
Registration process is slightly outdated
You can find the Grabley extension here. To be a permanent member of the Grabley club, feel free to register here.
Flipshope – Among the Best Google Chrome Extensions for Dropshipping
If you're picking shipments from the Indian Subcontinent, I know most of the insider information must have gone unforeseen for you. Don't worry, this list and extension is a bit different.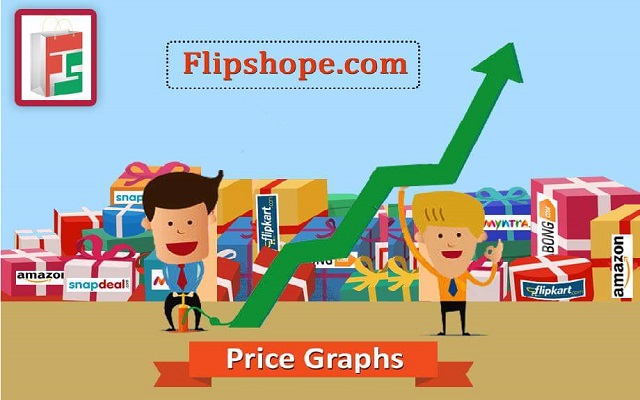 With Flipshope, you can track the trending items and add them to your store right before anyone else gets their hands on them. The extension and its webpage notifies you whenever a product sells out quickly.
It also has an 'Autobuy' feature which gets activated when a product in your niche is selling out quickly. It's helpful when you're not around to act. In layman terms, it's like having a friend who not only keeps an eye on the deals but also makes them in your absence.
Pros of Flipshope
Autobuy feature
Notifies about sales beforehand
Cons of Flipshope
Supports most Indian Stores (a con for those who are not looking into the Indian market)
Use TrustPilot to Evaluate Products
Products can be falsely hyped and you know that too. So don't waste your valuable time on buying things that have a false demand and are not usually popular.
There are two kinds of stars a customer can give to a product – red & green. A red star means the customer is not satisfied with the product. On the other hand, a green one means a customer is happy. You can see the written review clicking on the star and a new tab within the review.
Pros of Trustpilot
Works like a charm on popular stores and sites
Verified reviews for virtual services and products
Cons of Trustpilot
No star would appear if there's no review
Keywords Everywhere Should Be Everywhere
Now you must be wondering how a keyword-related extension has popped up in this list. Well, before you throw up your hands and give me a solid glare about how this tool should be restricted to internet marketers, hear me out.
Most beginner dropshippers don't have access to professional SEO tools. So, you have to be the all-in-one person.
Keywords everywhere makes your dropshipping more meaningful because if you have an eCommerce store, you can analyze the top keywords for your product and sprinkle a few in your product descriptions, especially the relevant ones 😉
See, here's a visual representation that might help you measure the difference.
Without Keywords Everywhere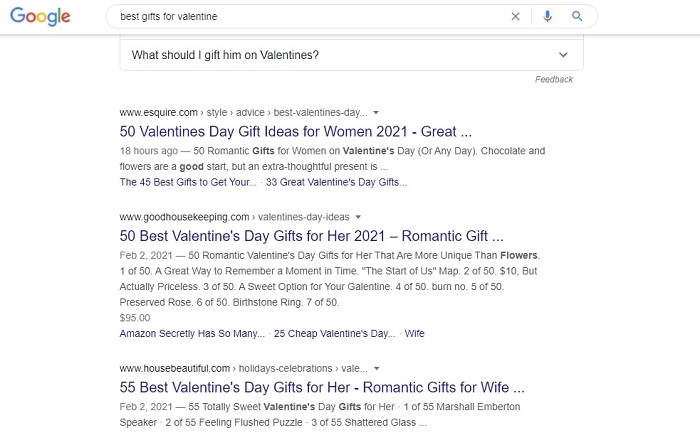 With Keywords Everywhere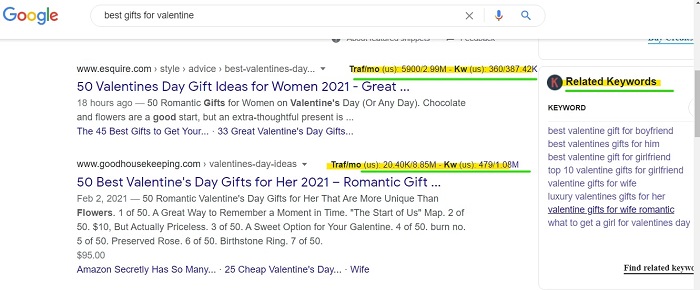 Pros of Keywords Everywhere
It works on every Google search that you do
Analyzes the web traffic for you
Brings relevant and related keywords that may help your store rank high
Cons of Keywords Everywhere
Doesn't work with websites that receive a low traffic
Best Google Chrome Extensions for Dropshipping Discounts
Honey Would Give Money – Just Add it!
Honey is another one of the best Google Chrome extensions for dropshipping that helps you find the best price for your items. Its automatic price-matching and coupon code searching ability may save you some bucks.
If you're not buying an item just because it's expensive. Add it to Droplist. If Honey detects a price drop at that store, it will notify you.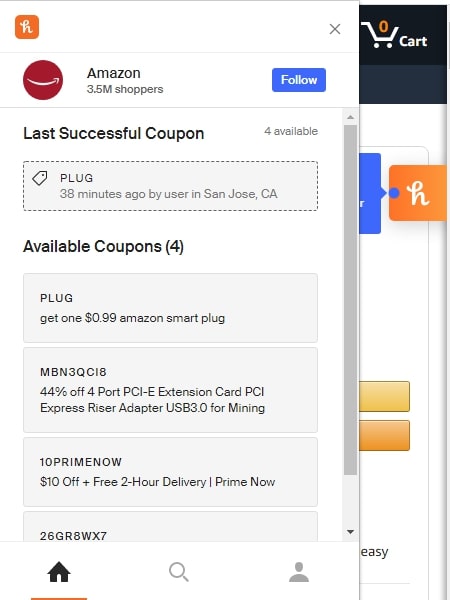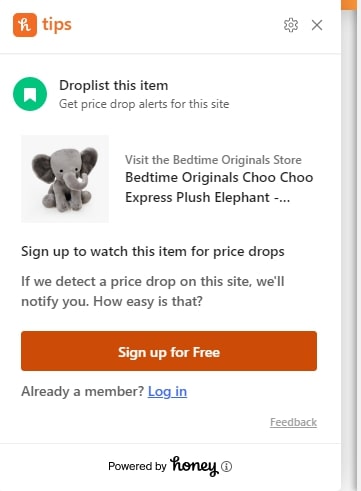 Pros of Honey
Easy to track pop-up on most popular eCommerce sites
Cons of Honey
You have to regularly check your email to get notified about the droplisted item
Keepa – Track International Prices!
Keepa is another versatile extension that supports multiple languages. And you know what? It's not just restricted to the amazon.com stores, you can also compare and track international Amazon prices with it.
Pros of Keepa
Prices for all Amazon locales are listed and can be tracked at convenience
Daily Deals gives you an overview of recent price drops
Wishlist can be imported in a single click
Easily import your whole wish list and create specific price watches for every item on it
Customizable
Cons of Keepa
Comes with a steep learning curve
It supports the following locales: .com |.co.uk | .de | .co.jp | .fr | .ca | .it | .es | .in | .com.mx
The languages Keepa supports: English | Deutsch | 日本語 | Français | Italiano | Español | 中文 \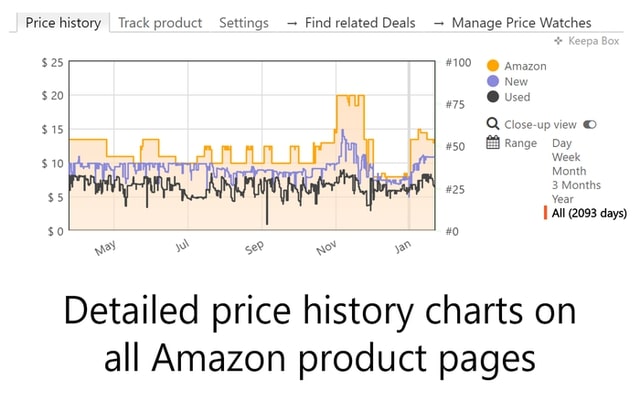 Best Dropshipping Chrome Extensions for AliExpress Lovers
Ali Invoice – Toss That Doc Template Away!
Keeping a track of expenses on AliExpress can be a headache. Using Ali Invoice, you can easily generate an invoice for every order you place on AliExpress.
Here are some steps that can help you generate your own invoice in a few seconds.
Once you've installed the extension, fill in the following details:
1. Click on the Ali Invoice icon
2. Select Options
3. Enter required details
4. Click on the Save button
In case you're on the AliExpress website, you can still generate an invoice. Just follow these steps:
1. Open My Orders page
2. Click on Ali Invoice button
And done, as simple as that!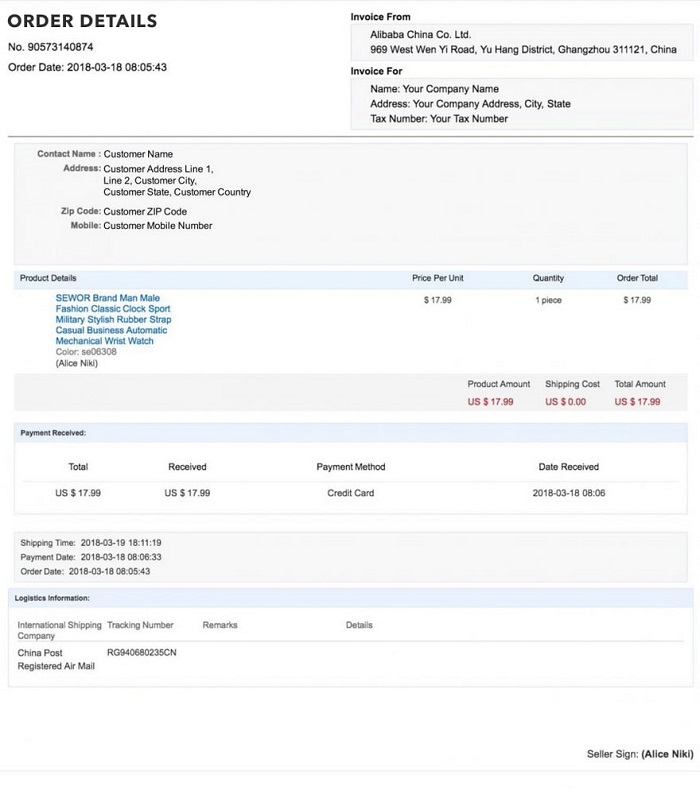 Pros of Ali Invoice
Easily accessible
Tracks your expenditure and saves your time
Cons of Ali Invoice
It lags and is a little heavy on your CPU
AliScraper – Filter it Out!
AliScraper is a product by Sprocket. Using AliScraper, you can easily filter products by shipping destination and carrier. Makes your work efficient!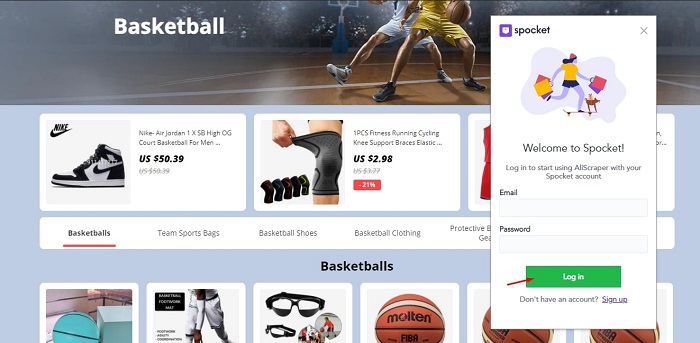 AliScraper simplifies the process of importing AliExpress dropshipping products, allowing you to add trending products to your Shopify store in one click. Automatically import AliExpress products to your Shopify store without any hassle.
These days, success is definitely a click away.
Pros of AliScraper
Get access to thousands of products which you can dropship worldwide
One-click bulk order processing
A hub to manage all of your orders and supplier relationships.
24/7 customer support (Try it for yourself)
Cons of AliScraper
Why should everything in life come with cons? Sorry I couldn't find one.
AliSave – Makes Things Easier!
Save yourself from the unnecessary hassle of selecting, resizing, and storing the images from AliExpress. AliSave is a tool that comes with two versions: Free and Paid. The free one is best for beginners because it comes with comprehensive features. Unless you don't do advanced dropshipping, you don't really have to invest in the paid version.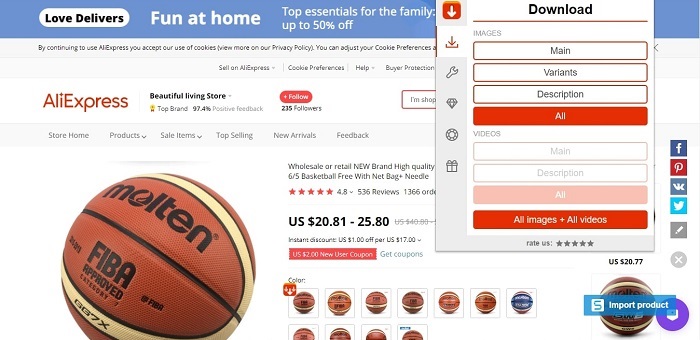 Pros of AliSave
Download main product images, variations images, and pictures from description
Save images as ZIP
Get the best quality image download
Convert webp images to jpg
Cons of AliSave
Tends to lag at times
Does not directly save it to your PC
AliRadar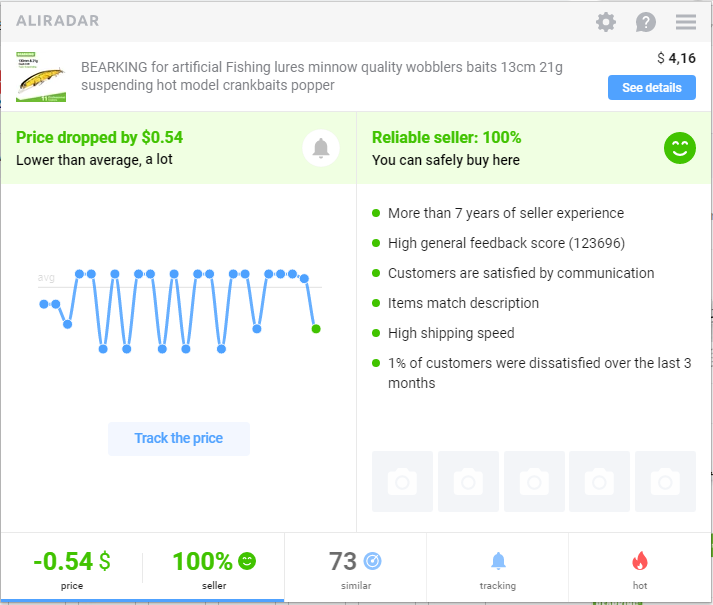 AliRadar keeps your preferred items under its radar. It finds similar products, shows price history and seller's ratings. Your very own free dropshipping assistant.
Pros of AliRadar
Price tracker
Tracking seller trust and reviews
Compare the product prices to other stores
Cons of AliRadar
Limited to AliExpress only (upsetting for Amazon-based dropshippers, I know)
Upskill your Dropshipping with other useful Google Chrome Extensions
Grammarly – Time to Be A Professional!
When it comes to product descriptions, customers tolerate no-nonsense. If your store does not have grammatically correct sentences, it puts a question mark on your store's credibility. So, do yourself and your dropshipping business a favor and install a free version of grammarly.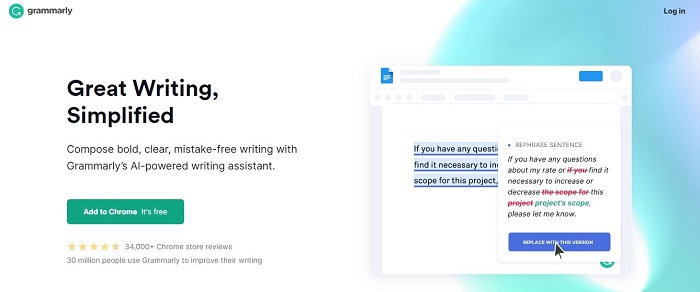 Grammarly eliminates writing errors and finds the perfect words to express your product (if you aren't copy-pasting it from Amazon, haha.) What I like the most about it is – you get real-time feedback from Grammarly almost everywhere you write inside your browser.
Now that you're not writing for the newspaper, a free version would do fine. But yes, if you still want to look great, you can go for the premium version.
Pros of Grammarly
Seamlessly works on most platforms
Autosuggestions for using better adjectives
Looks out for spelling mistakes
Increases readability of the text
Con of Grammarly
Pushes you to buy the pro version
Sometimes it gives irrelevant suggestions
Leverage Bit.ly – Short Link Making Chrome Extension for Dropshipping
Tell me which link would you prefer:
https://chrome.google.com/webstore/detail/bitly-powerful-short-link/iabeihobmhlgpkcgjiloemdbofjbdcic?hl=en
or
https://bit.ly/2Z9ryIc
I think you got my point. Just like you, your customers would prefer the second link as well. So, if you want to use a convenient link shortener that looks legit, try Bitly.
Pros of Bitly
Simplifies the link for the buyers to click
Tracks the clicks per link
Track links based on geolocations
Give specific tags to your links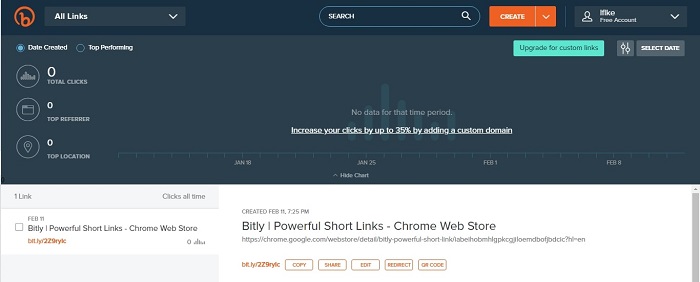 Cons of Bitly
Can't redirect a lot of links using one url for tracking
Overall, Bit.ly is not bad. I've been using it for quite some time, never had an issue!
The Bottom Line
So far I've come across these best Google Chrome extensions for dropshipping in my career. All of these have boosted my productivity and helped me big in my dropshipping career. Feel free to try them out.
By the way, if you have any other extension in mind, feel free to share in comments 🙂