Wondering what is Oberlo and how does it work for dropshipping?
The Oberlo app makes it easy for dropshippers to choose, import, and dropship products. It makes sure to deliver products in an unharmed condition.
More importantly, it gives you a bunch of different products so that you can dropship with ease.
Whatever, Oberlo is not limited to only these things. To figure out what else Oberlo is capable of, let's just stick till the very end because this guide is gonna be very detailed.
How Legit Is Oberlo Dropshipping?
Oberlo has been quite popular in recent years of dropshipping. But, you might have this question in your mind – how legit is the app? Well, you should ask those 1.4K people that are displaying oberlo products on their websites.
Believe it or not, if you're staring out in dropshipping, Oberlo can make your life easy. Here's how! 
Oberlo Gives Minimum Possible Risk
Do you know why most people don't get into eCommerce? The reason is quite simple – Inventory cost. They don't have enough money to put into products and wait for the sales.
On Oberlo, you can buy products from merchants only after getting an order on your store, isn't it convenient for entrepreneurs like us? Yes, that's the power of Oberlo. It saves us the cost of any unsold product or let' just name it the inventory cost.
Sell Winning Products Faster and Expand to A Great Extent
Let's say you somehow manage to sort out the winning products for your store. Unlike Oberlo, you will have to keep inventory with other apps which might easily exhaust in some time. And you know what? There's no inventory with Oberlo, you can dropship the winning product by buying the product from several merchants wherever and whenever you want.
If one merchant is out of stock, there are a hundred others that would possess the same winning product.
Low-Cost Dropshipping
Starting a business requires a lot of investment. Yes, it is expensive when you start any business. But, when you start your dropshipping business with Oberlo, it's comparatively cheap.
Now you must be thinking I'm talking about inventory cost. Nope, I'm talking about the storage cost, which we haven't discussed so far.
Secondly, the shipping costs of Oberlo merchants are lower than average. Lastly, if you're into dropshipping, you don't have to hire employees on a monthly salary to do your work. Freelancers are way better replacements.
Save Time with Oberlo
With the help of dropshipping, you can get rid of the product designing, creations, packaging, and shipping. Having this time saved, you can focus on more important things like marketing, personalizing, and finding new customers for your store.
Automate Your Business with Oberlo
The 2 most effective automation that Oberlo provide are:
Add products with a great profit margin to your store in 1 click
Automate filling in the customer details while placing an order to a manufacturer
Features of Oberlo Dropshipping App
Product Data And Analysis
Find untapped and profitable products with Oberlo's database. See which products are trending and have high-sell potential in the market. Once you find your winning product on Oberlo dropshipping app, make a list and try them out. If you start getting sales, then scale!
Uncountable Product Options
Oberlo gives you millions of products to choose from. There is no niche for which you won't find a product on Oberlo. So, come up with a super-targeted niche, find products relevant to the niche, and add products directly to your Shopify store.
Listing Customization
You can do a bunch of customization while listing products on your Shopify store's product page:
Pick any product photos you want
Edit product title and descriptions
Personalize customer's experience with editing, styling, and color for better conversion
Language Options
As of now, Oberlo gives you a chance to enable up to 6 languages:
English
French
Spanish
Italian
German
Portuguese
How to Integrate Shopify with Oberlo App?
Once you successfully install Oberlo successfully on your Shopify store, the first screen you see is Oberlo's main screen.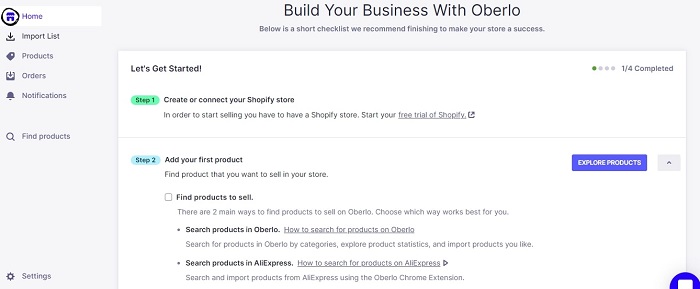 Here is the Homepage of the Oberlo app which has several steps that you should set up for a dropshipping business. Follow these steps reading the requirements and set your store up.
You can also watch the video we have on top to get a clear understanding of what is Oberlo and how to set it up on Shopify. In case you're not fond of videos, just keep reading!
Finding Products to Sell On Oberlo Shopify App
Step 1: In the Oberlo app, go to "Find Products."

Step 2: Choose the niche you want products for and select something that seems profitable. If I were you, I would select something that falls in the middle of profit and passion. More importantly, something that people might wanna buy.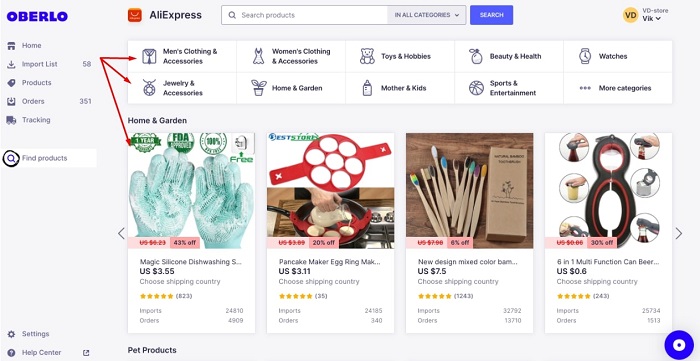 Step 3: Once you hover over the product's thumbnail, a button will appear on it. Click the "Add to Import List" and your product will be added to a list.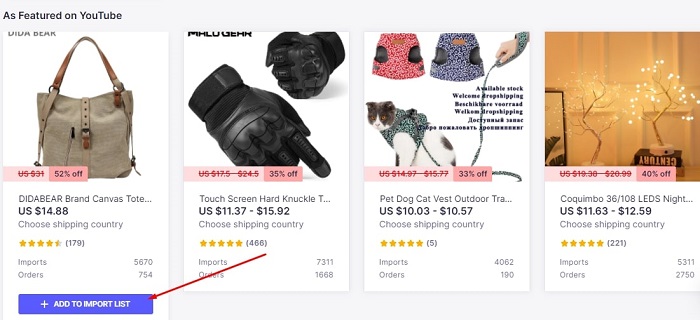 Step 4: Click on the "Import List" button from the left-hand side icons on the Oberlo app and see if the product is added successfully or not.

Step 5: Do several customizations with this product:
Change the title, choose collections, types, and insert tags in the 'Product' section

Edit description of the product in the 'description' section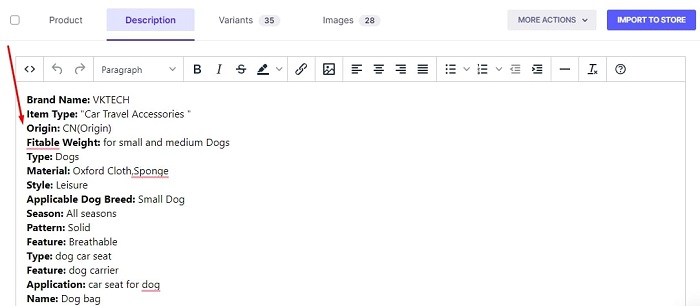 Select or remove the variants you want for the product in the 'variants' section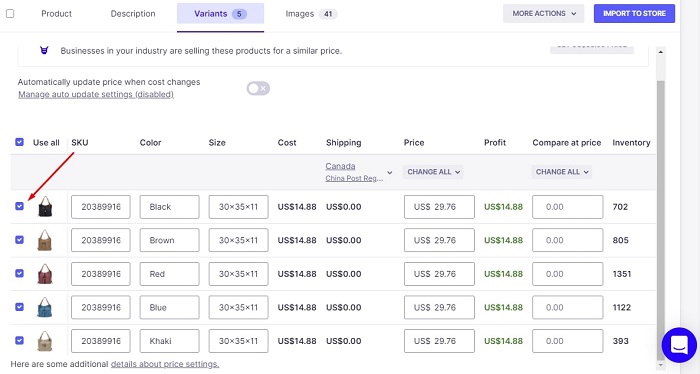 Select the product images you want to display on your product page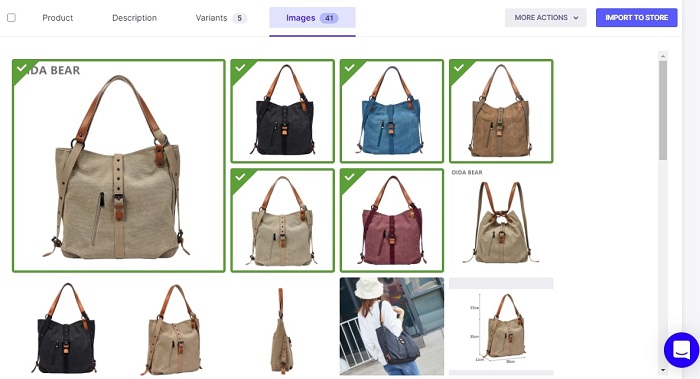 Step 6: Once you're done customizing the product, click on the "Import to store" button.

There you go, your product is now imported to your Shopify store.

Leverage Oberlo Chrome Extension
Using Oberlo chrome extension is quite easy. It's a 2 step process. First of all, click here > Oberlo Chrome extension so that you can install Oberlo as an extension on your browser.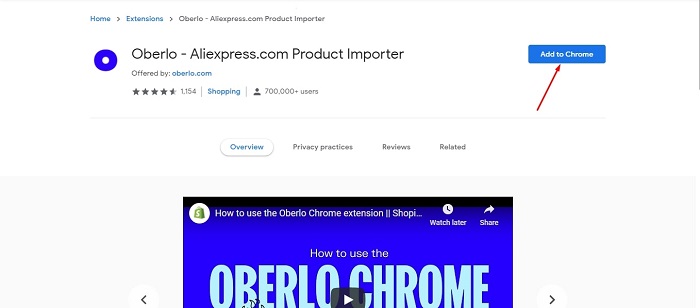 Now all you wanna do is visit AliExpress and choose the product you want to add directly to your Oberlo account. As you can see here, things are pretty much the same. Just click on the blue indicator you see on the screen to add product in the Import list of the Oberlo app.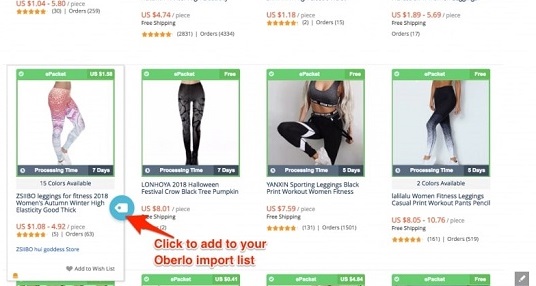 Also Read: Oberlo Chrome Extension Tutorial
Setting Product Prices in Oberlo Shopify App
After adding the product to your import list, you can set prices for each variant accordingly. Just head to the Variant section under the import list tab on the left side and set each variant's price individually.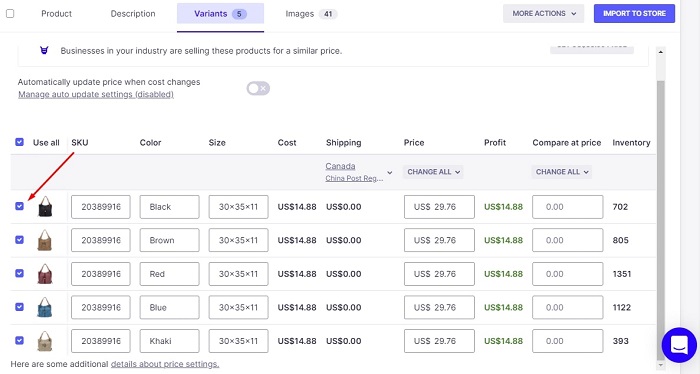 You can also change the prices of all variants in one go. Just click on the 'Change all' drop-down. Once you do so, one more 'Change all' option would pop up, click on that as well.

Returns and Refunds in Oberlo
When you apply for a return or refund, keep a check on a few things. Generally, Oberlo merchants don't accept returns and refunds, but if your product comes in the category down below, you can return the product:
You've got the wrong item in terms of size, color, or model (evidence needed)
Package is already damaged (evidence needed)
Quality is extremely poor (evidence needed)
Order misplacement
Order arrives after the estimated delivery time
How Much Does Oberlo Cost
Although Oberlo for Shopify is free of cost, you have to pay if you want premium features, courses on dropshipping, and important insights on how to do a profitable dropshipping business with Oberlo.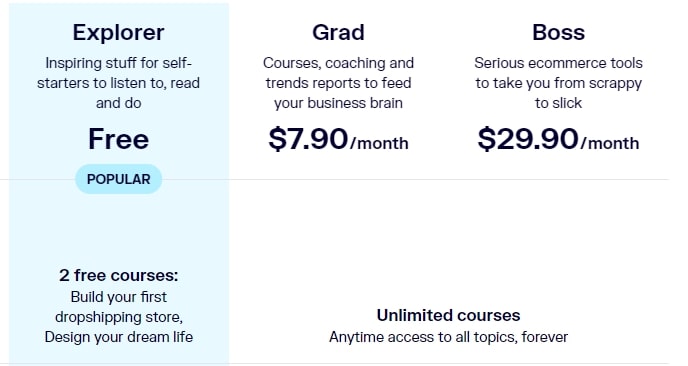 So pick whatever suits you and get to know what is Oberlo. If you're not happy with the pricing, you can go ahead with other Oberlo alternatives like Spocket, Modalyst, etc.
How to Make Money with Shopify and Oberlo – The Actual Way!
So far I've talked about making money. But, what is the actual way? Alright, just know – To be successful with Oberlo dropshipping, you might wanna follow a systematic approach towards dropshipping. Right from my experience, here are a few steps that might help you make money with Shopify and Oberlo.
Step 1: Pick A Niche
Picking a niche for any dropshipping business is the fundamental and the first thing you wanna do. Picking a popular, less competitive yet highly selling niche is the key to success.
From fashion to agriculture – there are a bunch of niches. So make sure you select the one you love and has the potential to give you conversions as well.
The top 5 Oberlo dropshipping niches are:
Women & men fashion
Beauty
Home decor
Jewelry
Watches
Step 2: Find Products that Sell on Oberlo
Things you have to keep in mind while finalizing a product are:
Search volume of the product
Potential profit on its sale
Product review
A few tips that might help you find a winning product:
Look for products that are best seller in the Amazon bestsellers tab and import those products from Oberlo to Shopify
If you're into fashion, SUZY is the place where you can peek into your competitor's best seller products, just type your competitor's name in the search box and see what products come up
WatchCount is another platform that gives you insights of eBay's most popular products
Monitor your best-performing ads and try to optimize & scale their reach
Step 3: Market Your Dropshipping Business
Market Your Oberlo Dropshipping Business on Instagram
Instagram is becoming a popular platform day by day. You can leverage the platform with 2 methods.
Method 1 – Influencers
Find influencers in your field on Instagram and direct message (DM) them asking them to promote your product.
You will have to pay a small fee to them and might have to send a free product for them to use. They will post an image on their Instagram account with your product and give your Instagram page a shout-out.
If you wanna kick things up a notch, you can ask influencers to make a Reel or an IGTV with a full tutorial on your product.
Method 2: Hashtags
Leverage hashtags to find your target audience on Instagram and send them messages or tag them on the product posts. For example, if your product is in the niche of men's hair grooming. You can search for hashtags like #menhairproducts or #menhairgrooming or just simple as #hairproducts. See the results you get and make good use of them.
Another way of using hashtags is to use them in your posts. In the caption section, you can type in relevant hashtags to your product so that people using or following these hashtags can see your post.
Leverage Facebook for a Successful Oberlo Dropshipping Business
The best way to use Facebook is by marketing your products via Facebook ads. If you have enough budget to run ad campaigns regularly, Facebook ads are the best to promote any product for any dropshipping business. Just make sure you have a clear and catchy image for the ad and a great ad copy that gets the attention required!
Oberlo Dropshipping Success Stories
HuskyBeard – Story That Started From 0 And Ended Up Into Millions
HuskyBeard is a beard-grooming product dropshipping store which started in 2016 by Paud Lee. He used to work 9 to 5 in a restaurant. The motivation of starting an e-store came to him when he saw the potential of beard grooming products booming.
With a lot of experimentation and dedication, Lee discovered his winning products and started making money. With $3000 a month income, who would like to try academics? He dropped out and made dropshipping his full-time career.
Fortunately, HuskyBeard is now a 6-figure business and it's still expanding.
Home Decor Tycoons – Jacky Chou and Albert Liu
Jacky Chao and Albert Liu invested $5,000 in Facebook ads to test their concepts. The investment helped them know top-tier products to sell. They came across the final conclusions of their experimentation a few days before Black Friday.
They started with one product, scaling its reach and banking money, they slowly expanded to a business with over $70,000 in revenue!
In less than 12 months, these home decor tycoons were able to hit the 1 million club.
Is Oberlo Good for Dropshipping?
Whether it's a small, big, part-time or full-time, Oberlo is suitable for every business model. Also, the potential of growth with Oberlo is neverending.
It's basically a virtual warehouse with millions of products that you can select from and sell in niches like fashion, beauty, home decor, etc.
Oberlo is definitely a great option for dropshipping once you understand what is Oberlo and the right way to leverage it.
However, just remember one thing. There's no shortcut to success. In order to get success in dropshipping, you need patience, dedication, positivity, and most importantly, the right mindset.
Hope you can use my tips to get some bucks out of dropshipping.