Shopify and BigCommerce are online stores that allow you to market and sell products. These eCommerce platforms don't require any software installation as both products run on a web browser.
So basically, there's always a big dilemma in choosing between the two. As much as both have an adorable reputation, certain differences make either platform more preferable in specific scenarios.
In this article, I'll be comparing BigCommerce vs Shopify and giving clear illustrations of each. We will look at the advantages of one over the other, their characteristic features, and any information about an eCommerce store.
BigCommerce vs Shopify – Which is More Powerful?
Shopify Overview
Shopify lets online sellers manage almost all aspects of their shops. It allows them to upload products, change their design, accept credit card orders, and view incoming orders and completed transactions. Let's have a look at the features Shopify offers: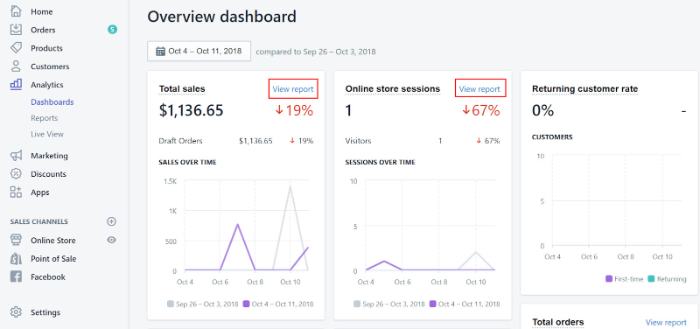 Shopping Cart
A secure and reliable shopping cart solution
Has the potential to integrate with 100+ gateways
Ecommerce Hosting
Shopify helps you configure your domain name or you can buy a new one.
Provides hosting services for your eCommerce website so it won't be managed by another company.
When Shopify hosts your website, unlimited bandwidth is included in all plans.
Online Retail
Sell almost anything on Shopify. From physical items to digital products – it provides an online market for all items.
A retailer can create product catalogs in the backend, post blogs, and manage all the content on their website.
Shopify equips your online retail businesses with an SSK certificate and PCI compliance.
Oberlo
One of Shopify's unique features is Oberlo which lets you find and add products to your Shopify store
You don't need a pre-built inventory for Oberlo.
When you sell something on Shopify, you don't have to be worried about packaging as Orbelo takes care of that as well.
BigCommerce Overview
BigCommerce is an online platform for young and developed businesses. It offers an open architecture, app ecosystem, and market-leading performance. Let's see the features of BigCommerce: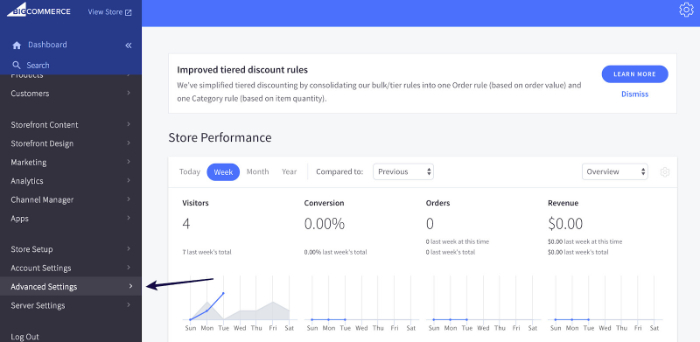 Storefront Design
The storefront design comes with a page editor, which easily launches and edits site pages.
Theme customization gives you a fully customizable theme with built-in HTML, CSS, and JavaScript.
Checkout customization customizes the checkout experience with server-to-server checkout API and SDK.
API-Driven Commerce
Offers a powerful commerce engine with a pre-built plugin for brands with an editorial or content focus.
BigCommerce's Acquia Digital Experience Integration allows you to merge headless commerce with sophisticated enterprise content management.
Storefront Conversion Coupons & Discounts
Create over 70+ native discounts and promotions
Site speed gives your store blazing-fast speed
SEO-friendly features drive more traffic to your site
Cross-Channel Commerce Marketplaces
Reach your customers by integrating with top marketplaces like eBay and Amazon
Social commerce increases your reach through different social media platforms like Facebook and Instagram
Multi-Storefront enables you to switch between storefronts with just a single login
BigComerce vs Shopify Comparison
Benefits of Shopify
Quick & Easy Setup
Shopify is a no-fuss platform which is easy to set up. Besides, it's the best solution for retailers who want a complete system with no development and hosting-related technicalities.
Easy Mobile Accessibility
It's no secret that mobile visits to stores are higher than desktops and laptops. This makes it essential for online service providers to have a mobile-optimized site.
Luckily, Shopify leaves no stone unturned as it comes with a mobile app to keep track of all important KPIs. You can manage your store to some extent via your iPhones, iPads, or Android.

More Secure & Reliable
Making your eCommerce store good enough to deal with sensitive customer information such as credit card details. More importantly, it never let down the impatient and insecure customers because of its top-notch security, fast page loading, and high uptime.
Customer Service
Most eCommerce site-building platforms don't have a 24-hour support system. Fortunately, Shopify is always there to answer all of your technical as well as other queries.
Powerful Marketing Tools
To start with, basic SEO features along with advanced eCommerce analytics put Shopify ahead of its competitors. In addition to this, custom gift cards, discount coupons, store statistics, targeted email marketing, and other things like these are cherries on top.
Flexibility
If we're going for BigCommerce vs Shopify, or any other platform in terms of versatility, Shopify ranks ahead. The platform has several in-built tools to give you such premium features that are needed for a great conversion rate.
Retailers can easily showcase their sale products, offer coupons, and customize shipping options. Along with this, there are hundreds of professional, free, and highly customizable themes that can help you control your store's feel and look.

Benefits of BigCommerce
BigCommerce is one of the best shopping cart software out there. Have a look at the list of benefits it offers to its subscribers:
Great & Reliable Support
Ecommerce platforms should be able to provide helpful customer support at any time of the day. Just like Shopify, BigCommerce also offers 24/7 call and chat support.
BigCommerce is SEO-friendly
With the increasingly competitive space, thriving in an eCommerce business is no minor achievement. The algorithms of search engines change every time.
In this case, BigCommerce doesn't fail, it follows up with the most up-to-date SEO practices like auto-optimized titles and URLs. The platform lets you add keyword-rich information manually in the SEO field.
Takes Good Care of Shipping
This is one of the greatest benefits of BigCommerce because the platform supports all the major shipping providers.
Did you know you can print shipping labels right from BigCommerce's control panel?
Mobile Templates
Do you know most people buy from their mobile phones? Yes, it's true and you need to get responsive websites and such mobile themes that work out pretty well for IOS or Android users. Still, if you are interested in working with code, the platform provides a base for customization.
Social Media Interaction
BigCommerce lets you reach customers through various social media platforms like Facebook, Instagram, and much more. This is especially powerful as there's a huge segment of customers that exist on social media. In fact, Facebook and Instagram alone have millions of users every day.

Shopify Advantages Over Bigcommerce
Easier to Use
BigCommerce and Shopify have a straightforward content management system, with a modern dashboard and a straightforward website editor. However, Shopify is easier to operate than BigCommerce and that makes it the best choice for upcoming business models. Although BigCommerce is powerful, mastering its basics is a tough nut to crack.
Better Design
Both platforms offer a slim amount of free themes. BigCommerce offers 12 whereas Shopify offers 9. As a result of BigCommerce's drag-and-drop editor, its free themes are easily customizable than Shopify ones.
On the contrary…
Shopify's themes are less uniform and you won't have to tweak much.
Better Support and Security
Both BigCommerce and Shopify provide the following:
24/7 phone support
24/7 live chat support
Help center
Community forum
Email support
Video tutorials
The outstanding feature here is 24/7 phone and live chat support. BigCommerce's help center provides you the latest information on eCommerce and dropshipping. But on a fairly competitive BigCommerce vs Shopify platform, Shopify will carry the day.
Shopify has certain helpful prompts throughout its website dashboard that link directly to a relevant page within the Shopify knowledge center. Simply put, both platforms offer 24/7 support but Shopify's knowledge center gives much better helpful stuff.
BigCommerce Advantages Over Shopify
Better Pricing
Both platforms offer different pricing plans.
BigCommerce: $29.95/month to $299.95/month.
Shopify: $29/month to $299/month.
Just like BigCommerce, if you pay annually instead of monthly, Shopify offers discounts of up to 10%. Both platforms offer similar prices but BigCommerce offers better value for money. Its better selection of built-in tools and a complete lack of transaction fees make it a clear winner.
Better for Big Businesses
For large business organizations, both platforms offer custom plans so that you can equip your store with advanced tools.
The Shopify Plus and BigCommerce Enterprise plan are primarily meant for large businesses who want to scale things up and get even more profit. BigCommerce Enterprise can handle hundreds of API calls per second. On the other hand, Shopify Plus has a limit of only 10 calls/second.
Meaning you'll be able to sync your product catalogs far more quickly with BigCommerce. BigCommerce is better for huge stores since it is equipped to handle large inventories with more built-in tools.
Bigcommerce vs Shopify Pricing Comparison
How Much Does Shopify Cost?
Shopify provides 3 pricing plans and a 14-day free trial. Let's see each plan in depth:

Basic Shopify: Comes with all the basics for starting a new business and highly suitable for young business enterprises.
Monthly price: $29 per month
Features
Online Store – Includes eCommerce website and blog
Unlimited products – Sell anything and everything
Staff accounts – 2 Staff members with access to the Shopify admin and Shopify POS
24/7 support – Quite impeccable and friendly
Sales channels – Sell on online marketplaces and social media

Shopify Plan: Carries everything you need for a growing business.
Monthly price: $79 per month
Features: All features in the basic Shopify plan with 5 staff members access.
Advanced Shopify: Comes with all the advanced features for scaling your business
Monthly price: $299 per month
Features: All features of Shopify and Basic Shopify plan with 15 staff member access.
How Much Does BigCommerce cost?
BigCommerce comes with 4 different plans and a 15-day free trial. Let's see what we can get from these plans:

BigCommerce Standard
Monthly price: $29.95/month
Enables you to make up to 50K worth of sales in a year
There are no transaction fees involved
Provides unlimited staff accounts
Offers 24/7 chat and call support
Integrations with leading payment gateways
Special credit card rates via Paypal
Enables marketplace and social integrations (Amazon, eBay, Facebook, and more)
Gives you free sitewide HTTPS dedicated SSL
Comes with a BigCommerce mobile app
Offers coupons, discount rules, and gift cards
Enable product ratings and reviews

BigCommerce Plus
Monthly price: $79.95/month
The BigCommerce Plus Plan includes everything that you can get in the Standard plan but offers additional features like:
Allows sales of up to $180K annually
Special credit card rates via Paypal which is powered by Braintree (2.5% +30¢ per transaction)
Customer groups and segmentation
Abandoned cart saver
BigCommerce Pro
Monthly price: $299.95/mo
The Pro Plan comes with everything in the Plus plan but offers additional features. Some of the extras include:
Allows for sales of up to $400k annually
Offers special credit card rates via Paypal powered by Braintree (2.2% +30¢ per transaction)
Enables faceted search (Product filtering)
Comes with a custom SSL
BigCommerce Enterprise
The Enterprise Plan comes with everything a Pro plan consists of but provides additional features. Some of the extras include:
Custom facets (Product Filtering)
Gives you the price-lists
Unlimited API calls
No selling GMV limits annually (Custom pricing)
Special credit card rates via Paypal powered by Braintree (2.2% +30¢ or lower per transaction)
Express routing and priority support
Strategic account management available
API support (express routing)
Setting Up Shopify and BigCommerce
Setting Up Shopify
Step 1:Click here to sign up with Shopify and go for the "Start free trial" button.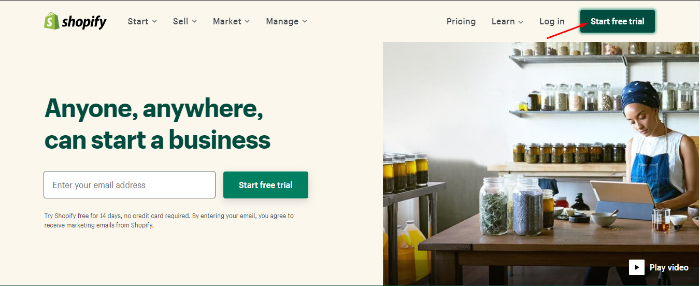 Step 2: Fill the form by entering your details as required.Your email ID, followed by a password, store name, and "Create your store."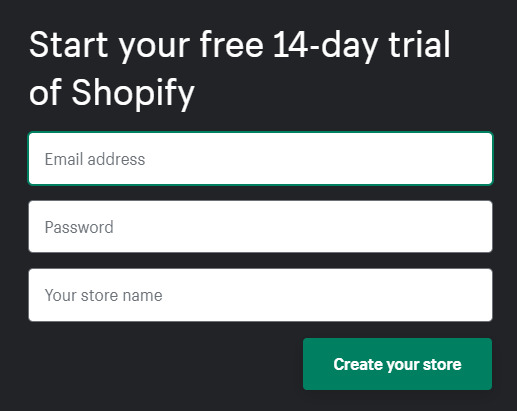 Step 3: Enter the details as requested, or still, you just skip and click the "Next" button.
Step 4: Type in the required details and once you're done, click "Enter My Store."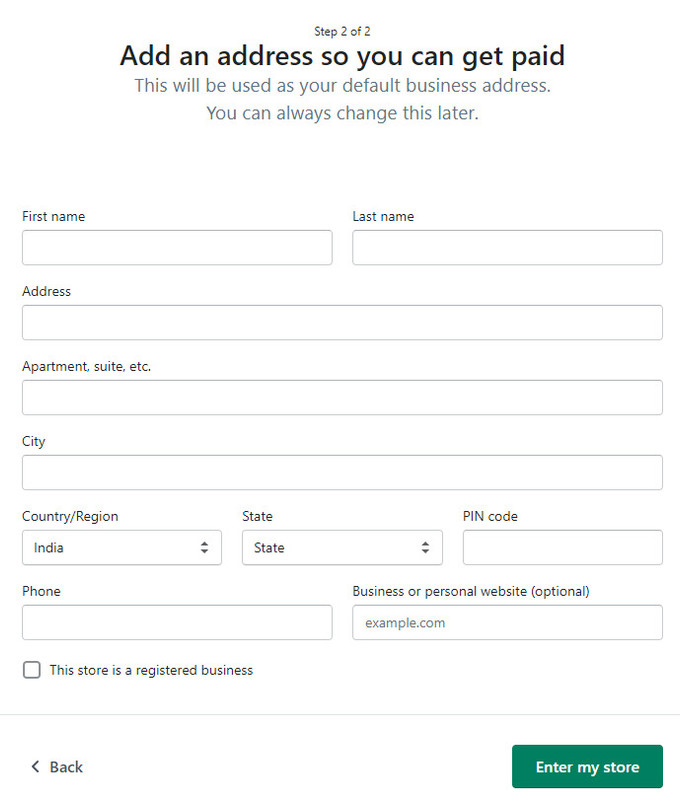 Step 5: You are now all set. Your Shopify account is ready! Now you can decide to set a few parameters on your storefront and make it look real.
Note: To have a more in-depth tutorial on setting up Shopify, visit here.
Setting up BigCommerce
Click here and visit the website. On the website, click on "get started".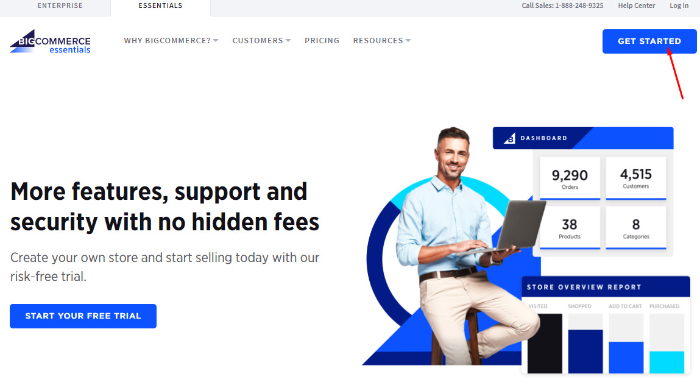 Put in your email address,." then "Continue."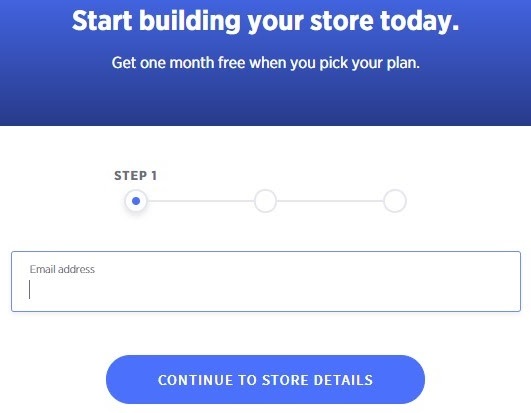 Fill the form, enter your store name and all the relevant information in the respective places as requested.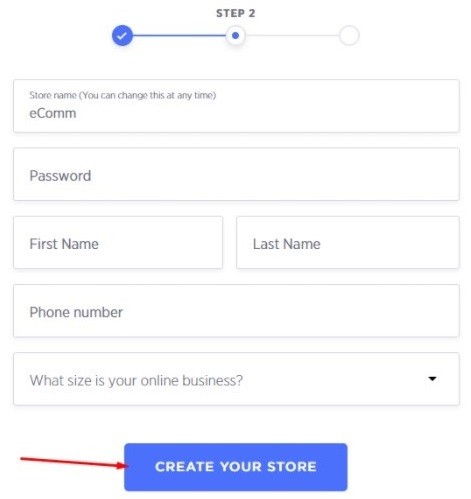 State whether you have an existing website, what you will be selling, and what best describes how you currently sell your products. Afterwards, click 'Finish.' In case you don't want to fill the info right away, you can just press the 'Ask me Later' button.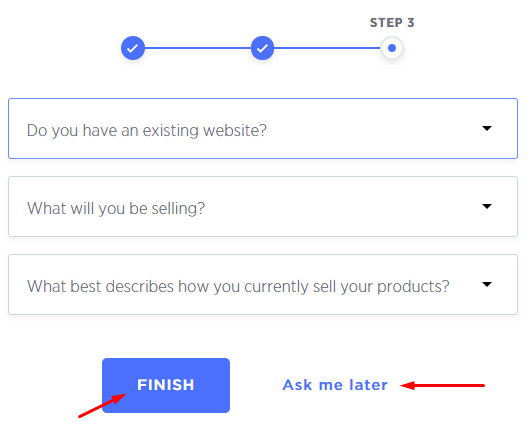 There you go, your shop is ready to rock online!
BigCommerce vs Shopify: Which Is Better?
One last thing – Knowing which is better depends on who you are and what you want.
Go for BigCommerce if you want:
Built-in features that comes with your subscription plan
A Large inventory and need better product variant options
Go for Shopify if you want:
Control over most of the features of your store
Already designed theme options
So the BigCommerce vs Shopify war has a different winner depending on who you are. According to my analysis, Shopify is a bit ahead as it's easier to use, has an efficient customer support system, template logins, and a bunch of integrations. The more control you have, the better it is!