Dropshipping clothes is an insanely popular avenue for eCommerce business owners because they can get huge profits out of it. As you can see, the US fashion eCommerce market grew from $60.2 to $99.1 billion in just 5 years.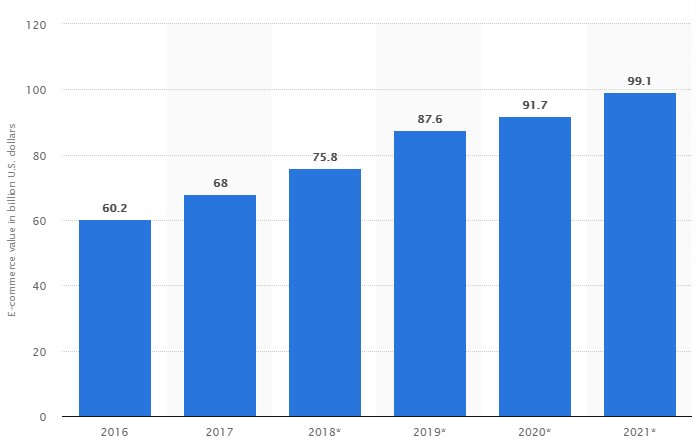 That's not all, it's projected that online clothing purchases will grow massively as inventions like 3D garment visualization, onsite searching, and virtual fitting rooms have become common.
In an era where profits in online apparel purchases are skyrocketing, starting your own dropshipping clothes store is a great way to get started.
How Much Can You Earn from A Dropshipping Clothes Store?
Sky's the limit for how successful you can be while dropshipping clothes on your store. In fact with the right mindset and learning, you can meet multiple financial goals.
That makes you ask, "how much do clothing dropshippers make on an average basis?"
Average income differs from one dropshipping clothes store to another. The average income generally depends on factors like experience, market tactics, marketing skills, profit margin per sale, festive seasons, and selected niche. 
Usually, dropshippers make a 10-50% profit margin per sale, and it's common to see them making anywhere from $100-$20,000 profit per month.
Whether you're looking to earn $15,000 each month or just trying to have a minimal side income, creating a dropshipping clothes store that correctly fills a market need is always going to be profitable. In addition, if you design your clothing, you can earn more!
Tips to Create A Successful Dropshipping Clothes Store with Shopify
Set Up Your Dropshipping Clothes Store with Shopify
Setting up a store to dropship clothes with Shopify is quite easy. You can find all the information in the blog on how to set up a store with Shopify (interlink the blog how to set up a store with Shopify).
Know the Trends in the Current Clothing Market
There are two ways you can successfully dropship clothes- finding a trend or creating one.
Social media platforms and Google Trends are great research tools for clothing and fashion dropshippers. Here's one way how you can use Instagram to find what products are trending.
Do a quick hashtag search. To demonstrate, I'll use #winterfashion because it's a broad niche and would give me multiple ideas for me to dropship clothes that are trending.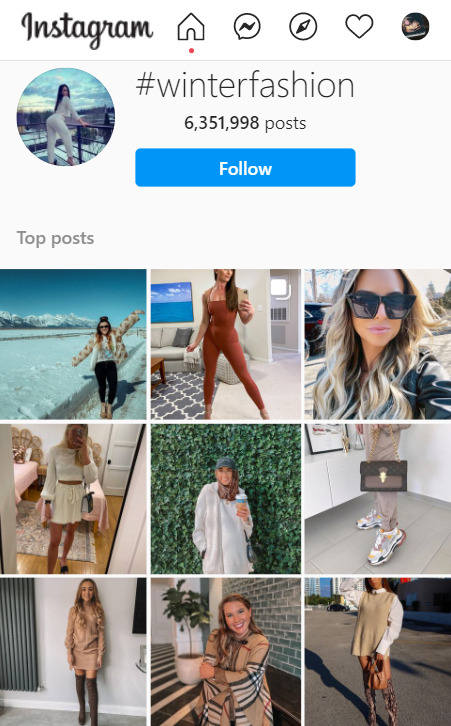 I get a general idea that people prefer browns, greys, and beiges for their winter fashion. Now, I'll check a few top posts in this category.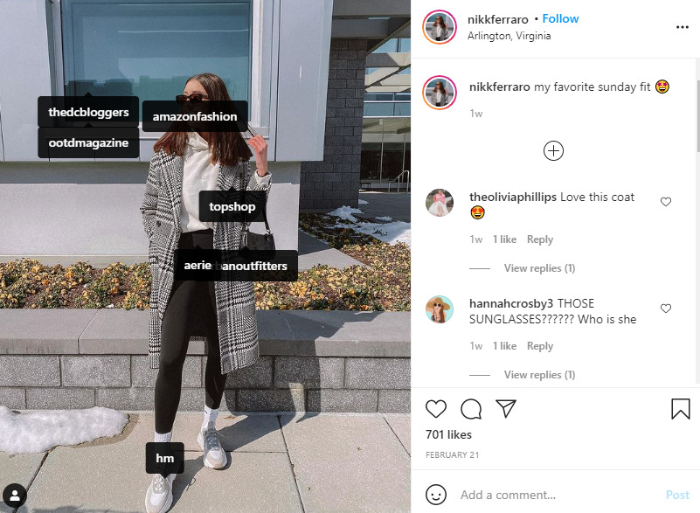 Here's a post from @nikkiferraro that tags the respective stores she purchased the parts of her outfit from.
After this, I can go to the relevant top brands selling relevant products and see how social media audiences engage with these products.
Here's a few from H&M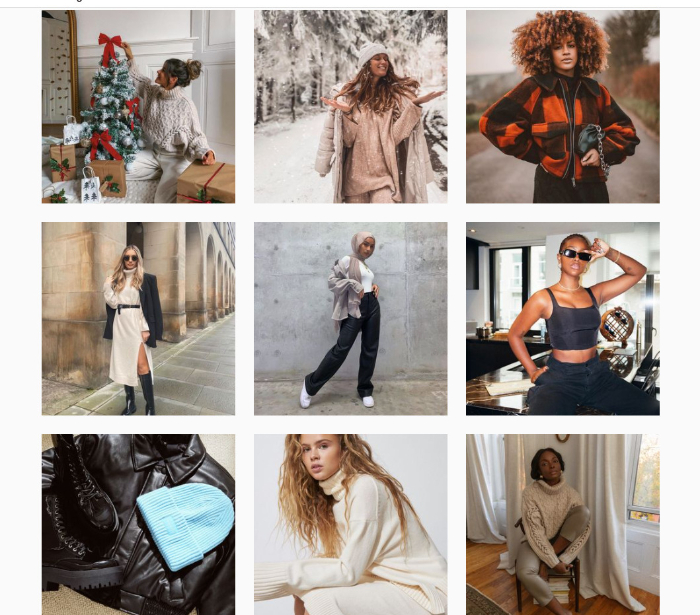 Let's now see how you can use Google Trends to do your market research:
Go to Google Trends And Research A Relevant Niche
I'll be doing a quick search on kidswear.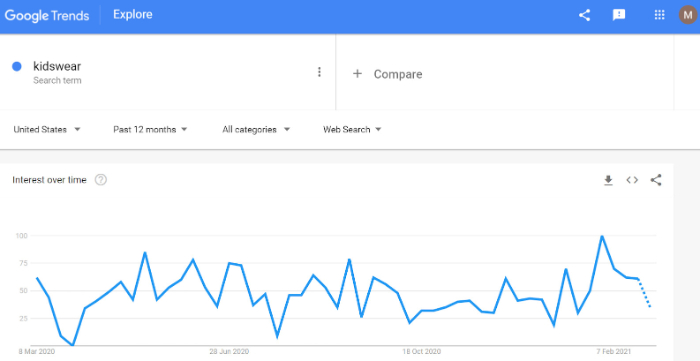 Scroll Down to Find Relevant Topics And Download the List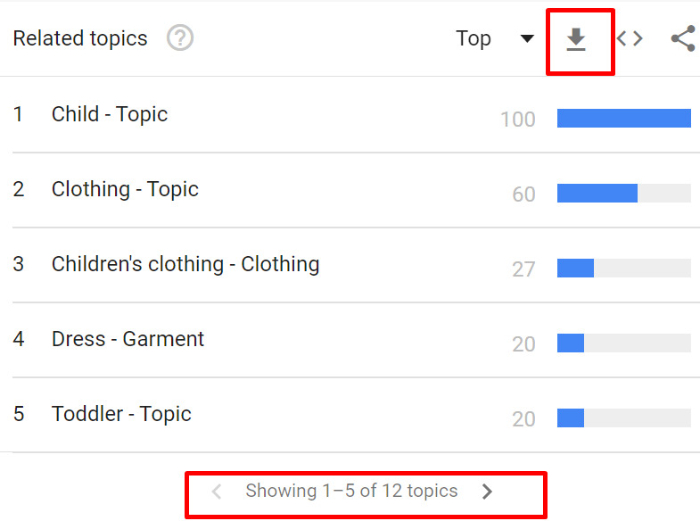 Check the Top and Rising List
I've made an excel sheet of the top keywords I found.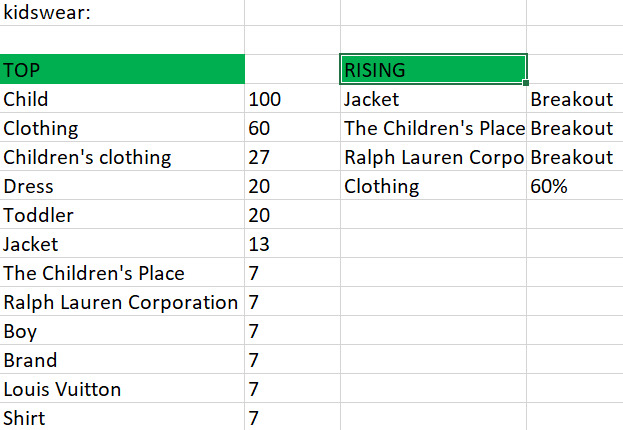 As you can see, there are certain keywords that are more popular than others. Do another Google Trends search with these relevant keywords and base your initial research on this.
If you're thinking of creating a trend, you should know that it's difficult but not impossible. It boils down to strategic thinking. Think about a need in the market that isn't currently being filled and fill that up.
For example, can you design a t-shirt that can be worn at formal events? How should it look? Or, can you design chic hoodies that don't go out of trend in summers?
Assess the Viability of Your Idea
No doubt that you came up with a great idea. But, if your idea wouldn't be profitable if it's not going to be received well by the market. Check your idea's viability by assessing it against the following parameters.
Functionality
Will your clothes be a one-time purchase (wedding gowns, evening gowns, tuxedos, etc.), or will they be frequent purchases? If you're aiming for a one-time purchase, think about – how is it possible to gain customers with a high disposable income?
Pricing
How will you price your clothing line? Are you aiming to sell your products to influencers and micro-style divas, or are you looking for the average customer on a budget?
Reliability
Clothing and fashion dropshippers should keep in mind that it's only possible to gain repeat customers when your products are reliable. Your customers can easily detect when you're compromising quality to make profits. So, keep reliability in mind while you dropship clothes.
Efficiency
You should know that your time is money. So, if your clothing takes too long to manufacture or if there are some inefficient systems in place, you should figure out ways to fix them.
Analyze and Find Your Target Audience
To successfully dropship clothes, figure out your ideal buyer persona and that includes knowing the general likes and dislikes of your audience and what factors would drive them towards buying your product.
For example, if you're planning to dropship baby and kidswear, then your ideal buyers would be those who are expecting to have a baby or are currently raising a toddler.
After knowing the buyer persona, you need to check where you can find them online. This buyer will be active on parenting forums, watching toy review videos with their toddlers on YouTube Kids, and would be seen filming cute videos of their kid.
So, some great hashtags to follow would be:
#babyfashion #parentinglife #mommy #dadsofinstagram #parentingmemes #pregnant #momblogger #babylove #maternity #parentingquotes
Another point to note is – If you're dropshipping clothes that are a one-time purchase or are aimed at luxurious clothing, you should estimate whether your customers have high disposable income.
Design Your Own Clothing
Are you a designer looking to create your clothing line? Perfect! Here are a few tips that can work best for designers aiming to dropship clothes.
Take your Time
Your first collection release is your brand's welcome call to the world, so don't rush it. Ideally, it would take you anywhere between 2-4 weeks to finalize your designs, so be ready to dedicate time to it.
Draw your Designs Anytime Anywhere
You don't technically need to carry a sketchbook 24/7 to draw your designs. Just purchase a stylus, download a drawing app, and create designs practically anywhere and anytime.
Practical Designing
Know that when you're dropshipping clothes, your designs should strike a balance between cost-effectiveness and quality.
Be Ready with Specifications
Having your designs ready is half the victory. As a designer clothing dropshipper, the next thing you need to do is have your specifications in place. Before placing an order for your clothing line, keep a note of the measurements, materials, and other product details that need to be communicated to your dropship clothing suppliers.
Find A Good Manufacturer for Your Designs
When you're dropshipping clothes on a budget, your best bet is getting your clothing produced by international manufacturers. Generally, as a designer clothing dropshipper, your manufacturer will be outsourced to countries like China, Bangladesh, India, or Vietnam.
Ideally, you may want to travel to see the factory in person, but with Covid-19 and budget restrictions, phone, Zoom calls, and emails are your best bet.
A few points to note:
To ensure an easy supply, search for such manufacturers that can get you the best product at the best rates.
If you're planning to go long-term with any manufacturer, take the time to visit and assess the factory personally. This allows you to see if anything is being done incorrectly.
In terms of fabric quality and clothing silhouette, your customer persona should also determine which manufacturer you want to pick.
Find A Dropshipping Clothes Supplier
You don't have to be a pro designer to be a clothing and fashion dropshipper. You can find a supplier who can give you great quality products.
So here's a list of the best dropshipping clothes suppliers.
BrandsGateway
There are 4 key reasons why BrandsGateway is amazing for your clothing and fashion dropshipper brand.
Dropshipping Simplified
With BrandsGateway's Shopify and Woocommerce plugins, you can upload your product catalog, synchronize inventory, and do much more to simplify the way you dropship clothes.
Big Numbers, Better Trust
It's known to be trusted by 50,000 B2B registered users.
Luxury Oriented
BrandsGateway is one of the largest online marketplaces for dropshipping luxury brands. It has 1000s of products from Versace, Armani, Dolce & Gabbana, Galliano, Cavalli, and much more.
Networking And Profits
The bigger your clothing and fashion dropshipping network, the higher your chances of landing better opportunities is.
BrandsGateway is your gateway to sell luxury clothing and accessories at high margins.
FashionTIY
Do more than just dropshipping clothes with FashionTIY because it consists of a massive collection of products ranging from pretty accessories to cute kids wear at a reasonable price.
Here are a couple of reasons that tell us why we should opt for FashionTIY:
FashionTIY allows you to add your own label to the products
A diverse range of products for your dropshipping store
Get a range of delivery options like Express, Standard, and more depending upon the product availability
Gertex
Gertex Hosiery is one of Canada's largest fashion accessories suppliers. If you're looking for hosiery, loungewear, accessories, and headwear, Gertex is what you need.
Private label dropshipping
A Wide range to dropship clothes from (Apart from dropshipping clothes catered to adults, they also drop-ship baby clothing and accessories, footwear, or winter goodies, and much more)

Yournewstyle
Yournewstyle was started in Poland and it sources most of its products from the EU, especially France, UK, and Italy. Here are a few reasons why Yournewstyle stands out as a dropshipping clothing supplier.
No Contract Loyalty: This makes it easier for you to buy anytime without any bondage
Discounted Prices: Individual discounts percentage for you to dropship clothes
Dropshipping-Friendly: Get a .xml file with descriptions and prices to easily set up products on your online store to dropship clothes and get the orders delivered directly to your customers
Clothes2Order
When it comes to embroidered clothes, Clothes2Order is a giant one. It's specially tailored to dropshippers wishing to dropship clothes. Here's what makes this company stand out:
Great Customer Service
Clothes2Order is known for its supportive customer service and quick response rates.
Quick Delivery
Delivers orders in as little as 24 hours when asked for express delivery. Although this might be pricey, it's definitely a pro when you need to fulfill orders on tight deadlines.
Customization Simplified
The company takes pride in being the easiest dropshipping supplier for customized products. You can simply upload your specifications sheet and you're ready to go!
Build Your Brand
Creating your brand and dropshipping is referred to as Private label dropshipping. In my opinion, having your own brand is a prestigious thing. Read the guide right here to know more about it – How to create your own Private label dropshipping store. (interlink private label dropshipping blog here)
Choose Pricing for Your Clothing Products
Now when you've learned the basics of how to dropship clothes, let's tackle the finances related to your dropshipping clothes business. Open your excel sheet and get started.
Here are 5 factors that determine how you can price your products:
Cost of materials
Cost of production
Labor fees
Overhead costs of warehouse
Shipping costs
Two strategies you can use are:
Cost-based pricing
Cost-based pricing is fixing a selling price, adding the cost of your products and the profit margins that you want to make. Now after this, factor in the marketing costs.
Let me give you a basic example. Let's suppose you're selling hoodies and it costs you a total of $15 to source one product from the supplier.
Let's say that the shipping cost per item is $5. You spend a decent amount of $5 on Google Ads for your store, so considering that your total cost is $20 per item.
To gain profits, you can price the hoodies at $30 or $40 per item and see how the market receives them. This way, you will make a decent profit margin as you dropship clothes online.
Competition-Based Pricing
Competition-based pricing is best for giving you a holistic insight into the market. When you're creating a competition-based pricing strategy, you will have to analyze the top brands and the budget stores. You can either check each price manually or level up your efficiency, using a price tracking tool like Pricefy, PROS, Zilliant, and something similar.
Always see the competition-based strategy in action. Just suppose this:
"I run a designer clothing dropshipping and obtain a designer blue-hued party dress from my dropshipping clothing supplier for $35 per dress."
In this case, I'll assess my competitor's prices for the same. If my competitor is selling it for $70, I can price it somewhere around $65 to $75 while still making great profits.
Now that we know how to price our products, let's see how you can market your products to maximize sales while dropshipping clothes.
Start Marketing Your Dropshipping Clothes Store
The primary reason behind marketing your store is to spread the word about it. Here are the different types of marketing you can do to drive visitors:
Advertising Using Facebook and TikTok Ads
Most dropshippers love Facebook because of the diversity of data available. Also, Facebook Ads make your campaign targeted for the audience you like to reach while keeping a track of your goals and budget.
Apart from Facebook ads, online dropshipping clothing brands are using TikTok to advertise their clothing lines.
Do you know Facebook has more than 500 million active users worldwide and it's known for creating many clicks and impressions while keeping costs low.
You must test and analyze your ads. Along with this, you should have a hands-on approach, constant upgrade on your ads, multiple ad sets, and the proper conversion rate analysis.
Content Marketing
Content marketing comprises blogging and visual content creation for social media posts. It also contains assets revolving market needs fashion-related ebooks or hosting meetups.
When you're on a low budget, content marketing can be your best bet because you can reach your target audience via blog posts.
A great example of content marketing would be Pour Moi's blog that aims at engaging its audience with relevant information while promoting its stylish and a wide range of lingerie, nightwear, and clothing.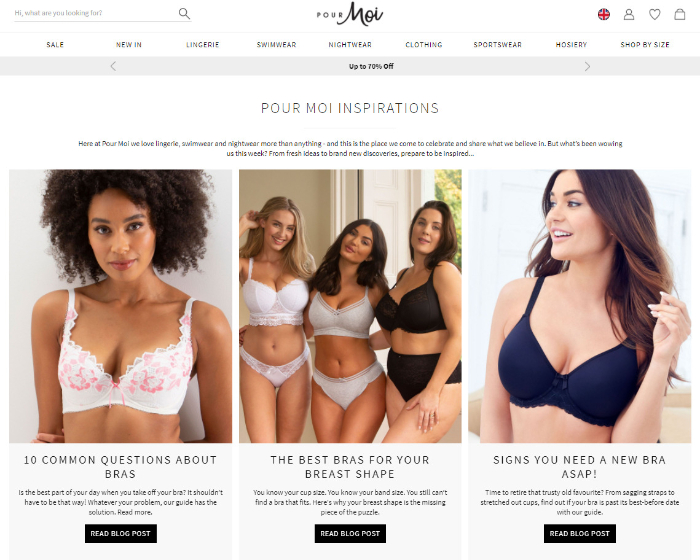 Email Marketing
Starting a newsletter is a great way for maximizing revenue. You can offer a discount for the first order or offer freebies. In this way, you will convert more customers and can easily contact them.
Using email automation software like MailChimp or ActiveCampaign, you can boost your marketing productivity and dedicate more time to your dropshipping clothes store.
Influencer Marketing
Influencer marketing is concerned with spreading the word through an existing community of engaged followers on social media. Influencers know how to engage and promote your product with a specific niche.
To find influencers, you can try out 3 different ways:
Manually search using social media
Hire an agency to find influencers research and outreach for you
Check influencer marketing platforms
Let's see how you can leverage influencer marketing for your dropshipping clothes store.
Here's an example of influencer marketing in action through Sara Crampton's Instagram handle @harperandharley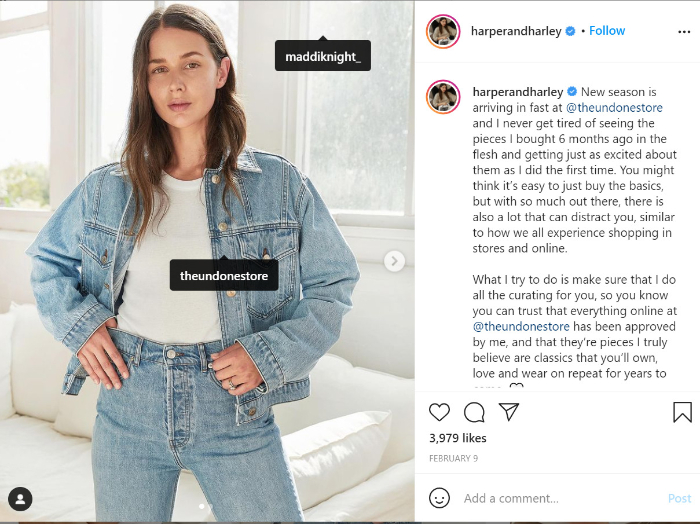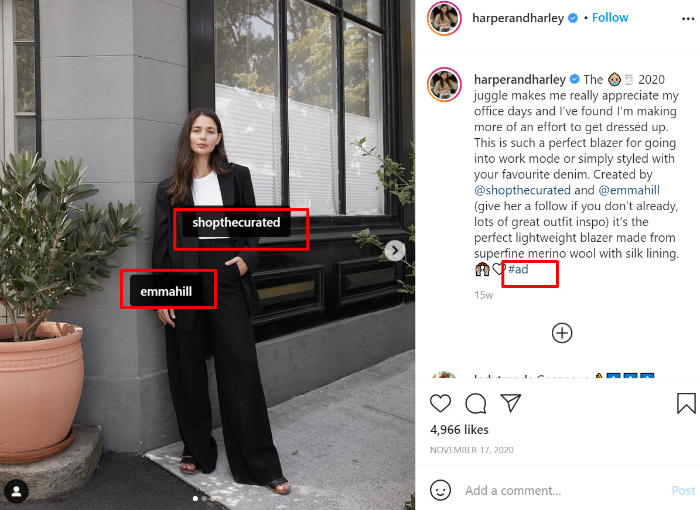 Word of Mouth
Word of Mouth marketing has a great impact on driving higher sales and recurring customers. To achieve better word-of-mouth marketing for your dropshipping clothes store:
You should revolve your business strategy around making customers feel valued
Provide them with great value-for-money products
Make them feel like insiders
When your clothing line matches your customer's expectations, they will enthusiastically recommend your brand to their friends and family.
Some Examples of Best Dropshipping Clothes Store on Shopify
Pour Moi
Pour Moi is an excellent example of a clothing store that aims to provide an elegant touch to lingerie, nightwear, and swimwear. It aims to be more than just a lingerie shop. Not only this, it also sells fashionable hosiery and feel-good nightwear.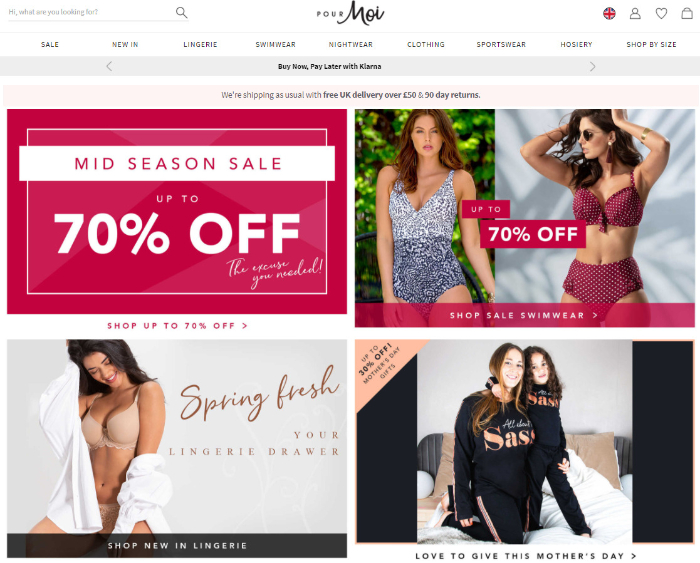 Those aiming to dropship clothing in the same range can get inspired by Pour Moi's smart content and social media marketing.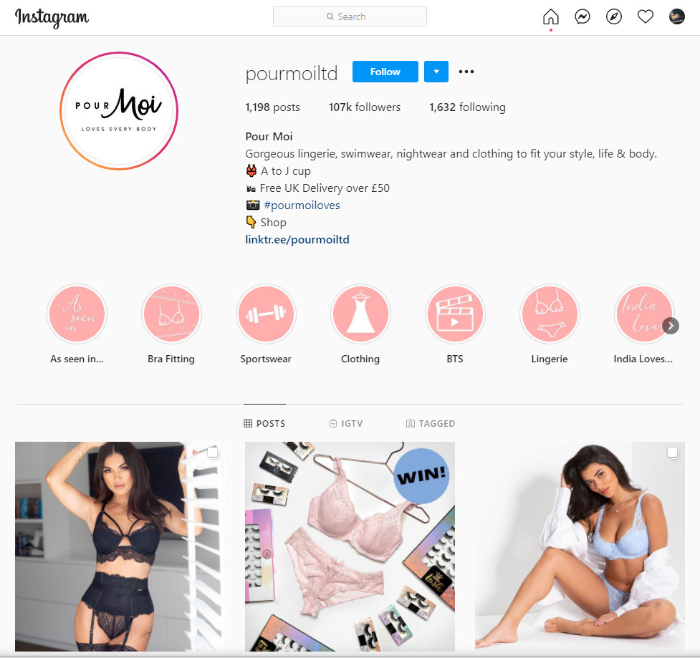 SIR
This Shopify store puts its big and bold imagery to play. Using a calm, serene photography style, Sir amazingly conveys a calm and inviting message through its theme. The brand was started in Sydney, Australia, and today it's known for prioritizing employee well-being and for producing an environment-friendly clothing line.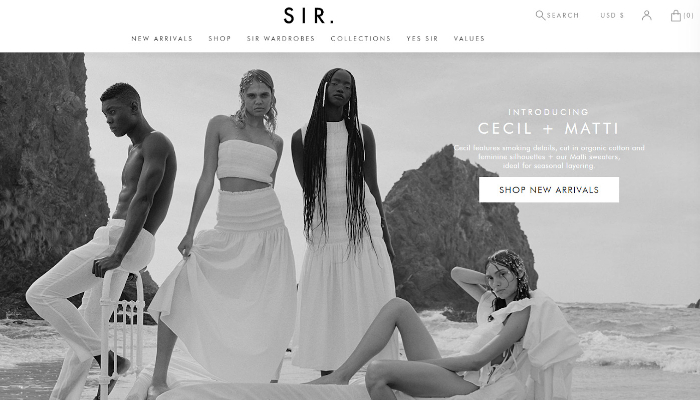 Ban.do
Ban.do is a bright and preppy clothing brand known for its casual, chic clothing, and accessories. It was started in 2008 and has grown linearly since then.
The store has diversified its product line and also sells planners, desk accessories, coffee mugs, and much more.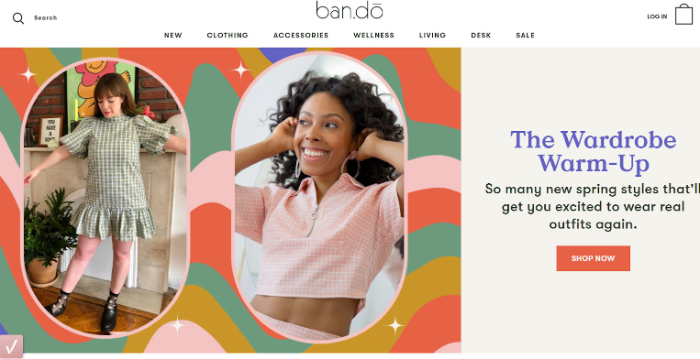 Khara Khapas
Khara Kapas stands for "pure cotton" in Hindi language. This dropshipping clothing store exhibits handcrafted clothing that are made from pure Indian fabrics. Through its vivid and earthly imagery, Khara Khapas creates a unique brand appeal.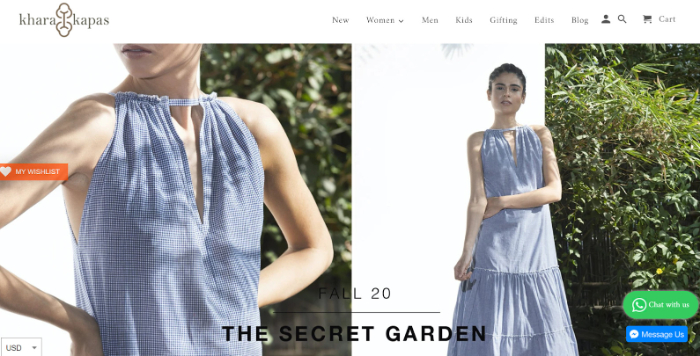 Khara Kapas maintains a blog to spread its true objective while engaging its store visitors with occasional clothing tips.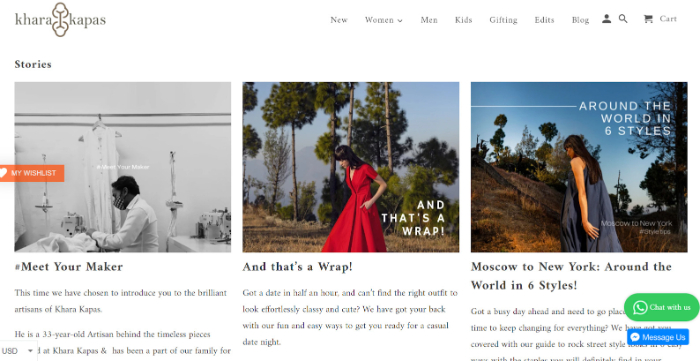 The Bottom Line
Creating a dropshipping clothes store can be a great way for you to drive sales and have an independent voice as a clothing and fashion dropshipper.
Although it may seem a little complex initially, dropshipping clothes online boils down to the simple steps of doing your research, building a brand, and marketing your products.
To test the waters, a 14-Day Shopify trial won't do any good for you. So have a minimum budget before starting your dropshipping clothes.